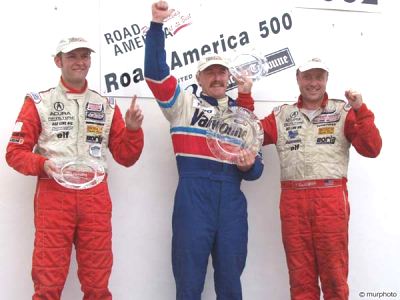 7/7/2002 - Paul Bonaccorsi drove the Tri-Point Mazdaspeed entry to both his and the Protégé's first World Challenge victory. Bonaccorsi made it the finish line only 0.384 of a second ahead of the second place finisher, Pierre Kleinubing in the RealTime Acura Integra Type R.
"It feels great to get the first win in this car for Mazda," said Bonaccorsi. "It's a little selfish, but I'd hoped it would be me to get the first one. My teammates and this crew has worked so hard."
Bonaccorsi started third in the No. 40 Tri-Point/Mazdaspeed entry, and jumped into second behind Woody's Ice Polesitter Kleinubing on the standing start. After following Kleinubing's No. 1 RealTime Racing Acura Integra R for two laps, Bonaccorsi made his successful bid for the lead in turn one.
Following a three-lap caution period to retrieve cars from the gravel traps, Cunningham jumped past second-starting James Sofronas and Taz Harvey to follow teammate Kleinubing. Rookie Marc Kirberg joined suit, and followed the two RealTime cars in his BMW.
Cunningham feverishly bumped Kleinubing on the straightaways to stay ahead of Kirberg and keep the Mazda in sight. Cunningham's bumps were working for Kleinubing, but overheated Cunningham's brakes on lap 10, allowing Kirberg through into third, and leaving the young Brazilian to fend for himself in his pursuit of Bonaccorsi. Kirberg's teammate Ken Dobson joined the fight for third, setting fastest race lap in the process, before his throttle stuck twice on lap 12, eventually landing him in the turn eight gravel trap.
At the front, Bonaccorsi kept a lead of between 1.5 and two seconds until the final tour, when Kleinubing closed dramatically and made bids for the lead in turns 13 and 14. The Mazda's grunt was too much for the Acura coming out of the final corner, and the two crossed the finish line nose to tail.
"I know Pierre [Kleinubing] is great under braking, so I was going as deep as I could," said Bonaccorsi. "At the end of the race, I was losing my brake pedal and had to pump it up on the straights. I was really pushing on the last lap to make up for the braking issues, and Pierre was there. I was able to kind of block him in the last couple of corners to hang on.
"My brakes were overheating too," said Kleinubing, who extended his point lead to 28 over teammate Cunningham (140 to 112). "The Mazda team certainly deserves the win, they've been working hard for two years.
"My expectation for the weekend was to try for a top-10 finish because the Acura is not very good on the long straights, so a second place finish feels like a win. It's great for all the guys on the team, who all live close to the track."
Cunningham was able to work past Kirberg and take his second third-place finish in as many days (equaling his finish in Saturday's SPEED GT event).
"This feels like my chair," joked Cunningham about sitting in the third seat at the press conference. "Touring Car is definitely the most fierce battle out there, it's just a blast to drive. Everyone up front races clean, but doesn't give an inch.
"We love coming here to Road America. It's very much our home race. All the guys who work on these cars live just minutes from the track, and we've got a lot of family and friends here with us this weekend."
Kirberg held on for fourth, followed by Shauna Marinus, of Folsom, Calif., who battled with Will Turner, of Newburyport, Mass., in the race's final laps for the position.
"I made a bad call on my brake setup," said Turner. "I was strong at the start and felt like I could move up quickly. The #92 Turner Motorsport/H&R Springs/Patrick BMW 325i felt very good. However, after the restart, my brakes faded badly. I got into a few battles for position, but without the braking, I couldn't make them stick. I'll take the sixth place finish and move on to the next one. The team worked hard and did a good job making sure we stayed in it. I'm pleased."
Jon Prall, of Cupertino, Calif., Chuck Hemmingson, of W. Des Moines, Iowa, Bobby Sak, of Troy, Mich., and Rick Gilhart, of Cincinnati, Ohio, completed the top 10.
Robert Baxter, of Atlanta, Ga., passed 18 cars on the opening lap from his 45th starting position to earn the B&M Holeshot Award.
The SCCA Pro Racing SPEED Touring Car Championship next travels to the Cadillac Grand Prix of Washington, D.C. July 19-21. Today's race will be broadcast July 27 at 8:00 p.m. (EDT).
article from - http://www.world-challenge.com/news/02press63.html