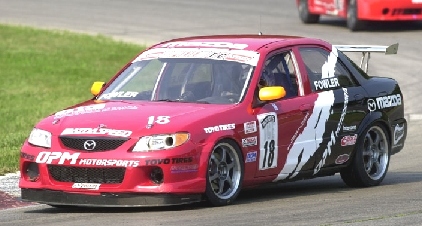 3/8/2003 - Cumming, Ga -- OPM Motorsports announced today that Paul Bonaccorsi will be behind the wheel of the #18 Mazda Protegé Touring Car for the SPEED World Challenge season-opener at Sebring International Raceway on March 14th. It is a win-win situation for the team as Hemmingson and Bonnacorsi were the two drivers to put Mazda on top of the podium in 2002.
"I'm excited to be teaming with Chuck Hemmingson and OPM Motorsports," said Bonaccorsi, a 42 year-old Rancho Cucamonga, Calif. resident. "Obviously, they know what it takes to put these cars on the podium, given Chuck's finishes. Chuck and I were the highest placing Mazda Protegé drivers last year, and I would rather race with OPM and Chuck, than against them. I'm looking for Chuck and I to fuel each other to finish up front. Sebring is an exciting track, and the fans make it one of the most fun venues on the schedule."
Bonaccorsi entered the World Challenge series in 2001 and was instrumental in the development of the Mazda Protegé Touring Car racing program. Paul earned his and the manufacturers first series wins with a hard-fought victory at Road America in 2002. As the 2nd winningest Touring Car driver in 2002 with two first place finishes, Paul also had four top-five finishes and six top-ten finishes. He rounded out the season placing seventh in the Touring Car driver's championship.
OPM Motorsports team owner Tom Fowler, Jr. has assumed the role of Team Manager for 2003 and is delighted to have Bonaccorsi on board at Sebring. "After a season as a driver in the Touring Car series I can definitely appreciate what Paul was able to get done against a very determined group of competitors," said Fowler. "To have him teaming up with Hemmingson should give us a great opportunity to continue the success we enjoyed in 2002. The Mazda Protegés are not going to be able to sneak up on anyone this year and the other teams will be ready for us, so it is even more important to find the best driving talent you can in this series. I think we are on the right track."
Based in Cumming, GA, OPM Motorsports is sponsored by Mazda, The Benefit Planning Group, Red Line Oil, Crocotile and SpeedArena.com. For more information, please visit the team's website at www.opmmotorsports.com.