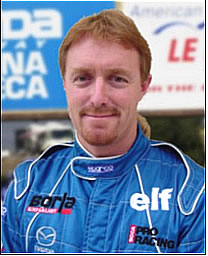 FOR IMMEDIATE RELEASE
Contact: Laura Bonaccorsi laura@bonaccorsiracing.com
DEL MAR, Ca (April 3, 2003) The Palomar Technologies, K&G Racing, AWR Team announced today that Speed World Challenge veteran Paul Bonaccorsi will pilot the team's newly developed Mazdaspeed Protegé for the 2003 Touring Car Championship season.
Team owner, Gary Gist, who drove the car for the first race of the season, opted to be on the other side of pit wall and put Bonaccorsi in the driver's seat. "Our first race in this series was an eye-opener," admitted Gist. "The competition is tough, and as a new team, we were facing a little bit of a learning curve. A lot of preparation has gone into the car, from its construction to the trackside support we'll provide. With someone of Paul's caliber behind the wheel, along with the experienced crew, we'll find the racecar's potential more quickly.
Bonaccorsi, who won two races last season and already boasts a top-five finish in an OPM Protege at the Sebring opener, is eager for the next race. "I'm really excited to be driving for this team," said Bonaccorsi. "Gary has assembled some excellent resources and built a great racecar. I've worked previously with Tony Woodford of AWR, and Carl Azevedo, who helped engineer and prepare the car. So, as a team, we have some common ground already. I'm also looking forward to working with the other experienced team members, including Crew Chief Chris Payne formerly with DG Racing and Jeff Bortels formerly with CDI Racing, who will round out this well-prepared team."
The team plans on multiple test sessions to dial the car in prior to the next race, which is in Mosport, Canada, May 16-18, 2003. Since Paul won the most recent World Challenge Mosport event last year, the new team fully expects to have their new, bright-orange Protegé battling it out with the front-runners.
For more information about the team, contact Gary Gist at (760) 931-3405.