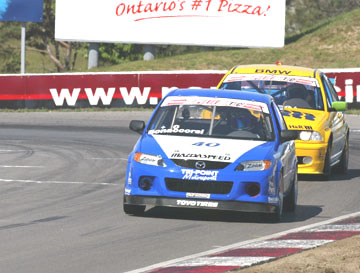 CANADA (August 18, 2002) -- Paul Bonaccorsi, of Rancho Cucamonga, Calif., took his second-career SCCA Pro Racing SPEED World Challenge Touring Car win at the Mosport International Raceway mail2web.com Mosport Grand Prix in thrilling fashion. Mike Fitzgerald, of Phoenix, Ariz., was second, followed by polesitter Will Turner, of Newburyport, Mass.
Bonaccorsi started second in his No. 40 TriPoint Motorsports/Mazdaspeed Protégé and followed Turner's No. 92 H&R Springs/Turner Motorsport BMW 325i for the first five laps. Coming out of tight turn five on the sixth lap, Bonaccorsi got a run, and was able to power past the BMW on the long up-hill back straight.
Bonaccorsi was able to hold off a flurry of challenges by Turner to record his second victory this season and the third ever for the Mazda Protégé. Bonaccorsi averaged 77.3 mph over the course of the 27-lap, 66.393-mile event en route to a 0.424-second victory.
Turner's second place was sacrificed for a shot at the win in the final two corners. With a report of oil in turn nine of the 10-turn, 2.459-mile circuit, Bonaccorsi gingerly drove in, while Turner attacked the inside of the final corner. The two exited side-by-side, with Bonaccorsi able to get on the power first, and Fitzgerald, who was closely in third, was able to get a run on Turner at the stripe to finish second in the No. 81 Team FBR/Trans Sport Lexus IS 300.
"I'm ecstatic to get a second win this year," said Bonaccorsi. "I thought I might be back on the podium, but didn't expect to get another win.
"When I took the lead, there was really no one behind me, and I got around turn five great. I caught Will and figured he must have made a small mistake because I caught him so quickly. He gave me room, and I was able to get past."
Fitzgerald's finish was the best ever for Lexus, coming on the heels of two-consecutive third place results. Aware of the surface condition, Fitzgerald was able to capitalize on Turner's bid for the lead.
"Will [Turner] and Paul [Bonaccorsi] were really battling hard in turns eight and nine, which allowed me to catch up to them going into the final corner," said Fitzgerald. "Coming into the last corner, I pulled as far to the left as I could, dropped it a gear and came out like a rocket."
After earning his first-career Woody's Ice Pole, Turner made no apologies going for the lead on the final lap.
"I came here to win and ducked to the inside of Paul [Bonaccorsi] in the last corner," said Turner. "Unfortunately, Fitzgerald just went by me on the front straight after I committed to the inside. He should go through that corner like that all the time."
Chuck Hemmingson, of W. Des Moines, Iowa, finished fourth with a heavy heart. Hemmingson's former Crew Chief at ICY/SL Racing, Randy Wilmore, was killed in a motorcycle accident Saturday. The series recognized Wilmore's contributions in World Challenge and with the Mazda Protégé program with a moment of silence prior to the race.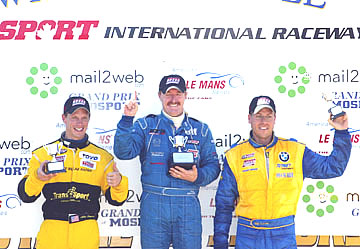 A winner earlier this season at Mosport, Ken Dobson, of Carmel Valley, Calif., was fifth. James Sofronas, of Newport Beach, Calif., point leader Peter Cunningham, of W. Bend, Wis., Brazil's Pierre Kleinubing, Taz Harvey, of Danville, Calif., and Marc Kirberg, of Corte Madera, Calif., completed the top 10.
The race was slowed by two cautions, one for a spectacular roll over in turn two by John Bosch, who was uninjured. Rick Gilhart, of Cincinnati, Ohio, captured the B&M Holeshot Award for advancing the most positions (four) on the opening lap.
Cunningham maintained his point lead, with 176, over teammate Kleinubing, with 161. However, it has tightened behind, with Fitzgerald (159), Turner (158), Kirberg (153) and Bonaccorsi (152) within striking distance. BMW maintains its lead in the Manufacturers' Championship standings, with 52, now followed by Mazda (40), Acura (34) and Lexus (22).
Today's race will be broadcast on SPEED Channel September 6 at 10:00 p.m.
article from -http://www.speedvisionwc.com/news/02press92.html