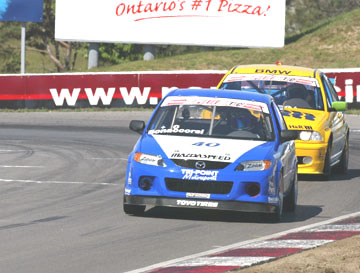 Irvine, Calif. - Mazda raced to its highest SPEED World Challenge Touring Car finish ever as Paul Bonaccorsi and his No. 40 Mazda Protegé crossed the line second at yesterday's race at Mid-Ohio. While Bonaccorsi steered Mazda to a podium finish, the Mazda Protegés were equally impressive - claiming five of the top 10 finishes.
"There's no doubt in my mind that Mazda supports its race teams better than any other manufacturer," said Bonaccorsi. "It's obvious Mazda wants to put its teams on the podium and is doing everything it can to get us there."
This past weekend was a benchmark for Mazda and its SCCA SPEED World Challenge program as it led all manufacturers with five top 10 finishes. Its closest competition came from industry-heavyweight BMW, who finished with two cars in the top 10. Mazda drivers are also posting impressive results in this year's point standings - boasting five of the top 15 spots.
"It's obvious our development and engine programs are paying off," said Steve Sanders, manager of MAZDASPEED Motorsports Development. "We're very proud of the successes our teams have had, and we're confident a race win is imminent."